Our specialised engineers together with their knowledge of CAD and CAM programs are able to assist your business in product design and prototyping.
With 30 years of experience in manufacturing jigs, fixtures, gauges and press tooling predominantly for the automotive industry, we are exceptionally well placed to design and manufacture tooling to meet your needs.
We are able to take you concept all the way to production whether it be a one off or high volume production.
The following services are offered:
Concept 3D modelling from your sketches.
Product drawings.
Prototype tooling designs.
Press tool designs.
Rubber mould tooling design.
Gauge/Jigs and fixture design.
Larego Toolmaking has developed this tooling for customers in the past.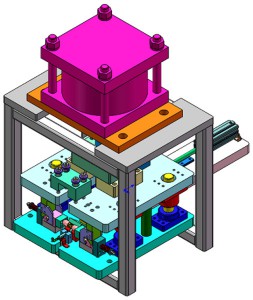 We use a number of software packages to help us design tooling for our customers. For example, here's some tooling being modelled in Solidworks.