Electric discharge machining (EDM) is also referred to as spark machining, spark eroding, burning, die sinking, wire burning and wire erosion.
The wire cutting type of machine we provide is flushing or submerged. All are numeric controlled (NC) using CAD/CAM software to obtain the desired shape.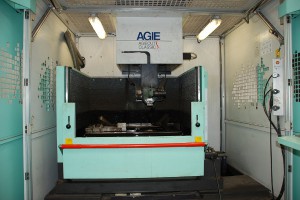 We are able to manufacture prototypes or short runs to suit your business requirements.
In addition we also have one of the fastest machines that can generate High Speed Super Surface (HSSC) to achieve accuracies in cutting.
The wire cutting process is achieved with brass wire to precisely erode the desired work piece.
Combining our vast knowledge and experience, we are able to produce skilfully and efficiently to meet our customer's unique requirements.
Advantages of Electrical Discharge Machining – Wire Cutting
Able to produce complicated and complex designs.
This process enables us to use all types of material grades, including hard materials which are very difficult to machine using traditional techniques.
The ability to create intricate parts which traditional CNC machining may not be able to achieve.
Able to cut 3D shapes and complex designs where the top profile can differ from the bottom profile.
Our Specialised Services
Larego Toolmaking wire cutting services can handle components with dimensions of X – Y – Z travels of 900 mm x 400 mm x 390 mm.
Detailed wire cutting can be achieved especially for those that requires intricate profiles, even in pre-hardened steel without additional heat treating.
Utilizing our inhouse design and development we are able to produce precise prototypes to suit your needs. This in turn minimizes the costs normally associated with tooling and fixture setups and also provides you with a faster turn around.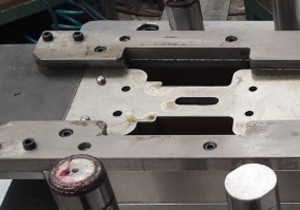 The cavities in the plate shown above have been created using our EDM wire cutting machine.