Our metal stamping shop consists of various presses including 35 tonne, 250 tonne and 400 tonne hydraulic presses. In addition we have fully automatic CNC press coil feed with 500mm x 2.3mm with die tonnage protection. The overhead crane can easily load coils without using a forklift which improves safety for our staff.
Larego's metal stamping division is always looking at ways to improve productivity so we are able to provide the best possible outcome in efficiency and cost effectiveness.
Our quality system means that our staff are trained to produce high quality parts. We also monitor and measure components in compliance with our ISO approved process control system. Traceability in our measurement processes forms an integral part of our process control.
Our staff continue to improve their knowledge by completing training courses for the development of their skills so that Larego Toolmaking can continue to be at the forefront in lean manufacturing and in turn improve production efficiency.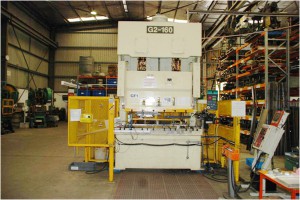 The video below shows the creation of a pressed metal component using an automated metal stamping press. The press tool was designed and manufactured by our tool makers.
Why choose us?
Our inhouse toolroom allows any modification or repair to be done inhouse to minimise disruption to production.
We have a wide range of capabilities such as forming, metal stamping, deep drawing, piercing, bending, coining, riveting and assembly.
We cater for low volume production eg creating laser cut blanks then forming.
We are able to source a variety of materials, for example, mild steel, brass, copper and stainless steel in various grades and thicknesses.
Able to maintain stock levels appropriate to customer requirements.
Parts can be finished to your requirements such as zinc plating, powder coating and e – coating.
Another video below shows the riveting of two metal components as part of a fabrication process. A press form tool fabricated by our toolmakers is used to hold and align the components whilst the rivets are compressed.